It's
Momentous Monday
!! Tiffany at
A Moment Cherished
hosts this wonderful blog-hop each week to encourage us to be intentional as mothers, wives and Christians. I think sometimes we get so caught up in the everyday activities that we forget to enjoy the smallest of moments and to be thankful that we have been given the gift of family and salvation.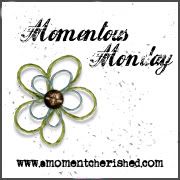 Casting Crowns performed in Greensboro, NC on Saturday night and I was there! If you have never seen the Crowns live, let me just say these few things….
First, you will not walk away without a blessing. There is something about worshiping with a few thousand Christians that cannot be described. When that many people are gathered together, singing together, clapping together…it's just something that you have to experience for yourself.
Second, these people have a heart for the youth. They are all youth ministers at their respective assemblies in Georgia. After the show on Saturday, they hopped on a bus and drove back to be at their home churches on Sunday morning. They have an amazing dedication and I pray that God sustains their energy and their willingness to continue sharing His message.
Finally, it's loud…it's REALLY loud. They jam. Now I know that there are a lot of folks who think that Christian music should be traditional. There are folks who think that God has a certain window of approved decibels and anything over or under that window is out of His will. If you are one of these people, I will say that maybe the Crowns are not for you…but you're missing blessing.

In the middle of all the sound and the other worship and the music, I captured this image. I think that it speaks to the intimacy of the Holy Spirit. I love how, in a room with thousands of strangers, this guy was worshipping as if it were just him and God. Because really, when it comes down to it, isn't worship really just about you and God? It's beautiful to me…and it is worthy of my
Momentous Monday
post.